AUTHOR SPOTLIGHT
TREVOR D'SILVA
Trevor D'Silva has a B.S. degree in Mechanical Engineering; M.S. degrees in Engineering Management, and Environmental Engineering, and an Associate degree in Accounting. He has lectured in mechanical engineering and environmental science subjects at various colleges. Fateful Decisions was his debut novel, encompassing history and fiction from WW I to the end of WW II. It got a 5 Star review from Readers' Favorite and was also a finalist in the Wishing Shelf Awards competition in the historical fiction category for 2018 for which he got a medal. His second novel, a murder mystery set in England and Scotland during the 1920s came out on November 14, 2019. Both novels have won the Silver Badge 'Recommended Read' award from Author Shout. Even though he is an engineer, his passion for history has never waned. He uses his free time to expand his knowledge in history and reading crime, thrillers, and mystery novels. He has an avid love for nature and for animal rights. He also loves travelling, learning new languages and experiencing various cultures and cuisines.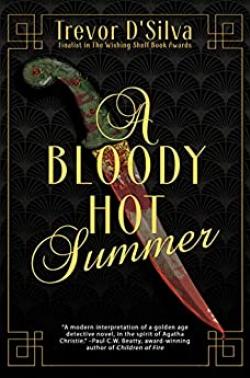 A Bloody Hot Summer
by D'Silva, Trevor
A modern interpretation of a golden age detective novel, in the spirit of Agatha Christie and other writers of crime of the interwar period. A very satisfying homage. –Paul C. W. Beatty, award-winning author of Children of Fire and member of the Crime Writers' AssociationIt's 1927 and Great Britain is sweltering in an unprecedented heatwave. On the morning after her eightieth birthday party, Lady Fitzhugh is discovered bound and butchered in her bed, with her family and staff the prime suspects. . . Whilst holidaying at nearby Meadowford Village, Detective Dermot Carlyle is asked to help investigate the brutal murder. The clues all point to a robbery gone wrong, but Dermot suspects that there is more to the horrific crime. The Fitzhughs' secrets take Dermot along a path linking some of the biggest events of the British Colonial Empire – from India to Africa, to the dark days of the Great War itself. As more murders take place, Dermot is racing against time to discover the killer's identity. What are the family hiding, why did Lady Fitzhugh have to die, and what horror was committed in the colonies that led to this trail of death and deceit?
Kindle Price: $5.99
LEARN MORE NOW!
Category: Mystery, Thriller & Suspense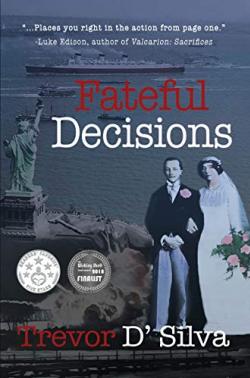 Fateful Decisions
by D'Silva, Trevor
A Wishing Shelf Book Award Finalist 2018It's 1915 in the heat of WWI. Two friends heading to England aboard the British ocean liner, RMS Lusitania, meet and fall in love with a charismatic woman. After battling for her affection, Rachel Williams makes her decision, beginning a journey that no one can predict or soon forget. For the next thirty years, Rachel is forced to live with the choice she made, as the dominos fall around her, sequentially. Is there a sinister force at work? Who can Rachel trust? Will Rachel ultimately regret her decision when she learns how it impacted others?Set in America and Europe, history and fiction intertwine, commencing with the sinking of Lusitania. Historical events like The Russian Revolution, Prohibition, The Great Depression and World Wars I and II also play important roles in the lives of the characters and the decisions they make to love, betray, forgive, and reconcile.
Kindle Price: $3.99
LEARN MORE NOW!
Category: Romance