AUTHOR SPOTLIGHT
S.K. ANDREWS
When Starra Andrews wasn't swimming the Pacific Ocean in her hometown of Laguna Beach, California, she busied herself by writing fantasy stories and acting on stage. Having grown up watching Rod Serling's Twilight Zone and Night Gallery shows on TV, Starra quickly fell in love with paranormal tales with a message of wisdom and love. Also, being a fan of romance novels and non-fiction ghost stories, she decided to marry the two and write paranormal novels of suspense, adventure, and intrigue with a strong romantic foundation.

The sense of adventure inside her came from summers of camping with her family in Mexico (Baja California) and walking along beaches with no other footprints but hers, as her family members unpacked the camper and got ready to collect clams right off the shoreline for dinner. After attaining a B.A. degree in Theatre from University of California, Irvine, and a Professional Acting Certificate from LACC Acting Academy, an idea sparked for interviewing actors to help student actors entering the theatre arena. Starra's non-fiction book The Pursuit of Acting; Working Actors Share Their Experience and Advice was published by Praeger Publishers. Starra is also a member of the International Thriller Writers, which host the Thrillerfest writers conference each year in NYC.

Her heroine, psychic/paranormal cleanser Vivien Kelly and her team are in a race to rid the modern world of deadly Celtic creatures in her book trilogy, The Kelly Society. Bay of Darkness is the first book of the series. The beautiful Hudson Valley in upstate New York is where Starra now calls home. She loves being a quick train ride from New York City, but also enjoys country life. Her two tabby cats Audrey Hepburn and Vivien Leigh are her constant writing companions, and love to curl up on the table next to her laptop.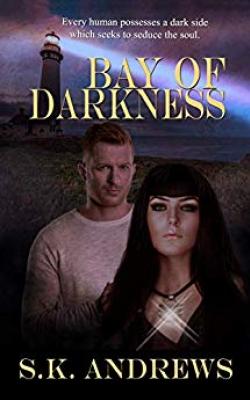 Bay of Darkness (The Kelly Society)
by S.K. Andrews
N. N. Light Book Award Finalist 2019. After witnessing her fiancé's murder and almost dying herself, Vivien Kelly's mission is to destroy Dagda--a Celtic God turned demon. As a supernatural dark cloud looms over the Sahara, she finds herself drawn to the Northern California town of Half Moon Bay and a new life as a paranormal cleanser. There Vivien finds Dagda's creatures tormenting the locals. Her own paranormal cleansing team--The Kelly Society-- is born, and the race is on when people around her begin to die. While banishing a banshee, Vivien meets Neal Harrington--a soul partner who can promise true happiness. But when Dagda's black vapor creates a New World of darkness, her time is up. Can Vivien abandon everyone she loves and succumb to her past life's barbaric force to defeat the demon? Her actions not only determine her future--but the future of the modern world.
Kindle Price: $0.99
LEARN MORE NOW!
Category: Science Fiction & Fantasy