AUTHOR SPOTLIGHT
PETER BELL
I'm Peter and I am a magazine editor and football supporter of AFC Bournemouth. I am also a blogger with my own site called Cherry Chimes. I live surprisingly in Redhill, in Surrey, and not in Bournemouth. But I grew up in Bournemouth and used to enjoy running down to Dean Court on a Saturday to watch my first games in the 1980s. I still love Bournemouth and Dorset and aim to live there again at some point. While 'Eddie Had A Dream' is my first book, I have had a career in magazine journalism working for some crazy and varied titles such as; What-Hi-fi?, Feed Milling International, Cereals International, Finishing magazine and International Cement Review. I have also found plenty of places to write about football including contributions for the Guardian/Observer, the Daily Mail, the Daily Telegraph and the Times. I've also written for Shoot, Here is the City (HITC) and Ask Fans, to name a few.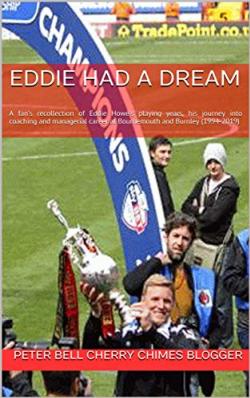 Eddie Had A Dream: A fan's recollection of Eddie Howe's playing years, his journey into coaching and managerial career at Bournemouth and Burnley (1994-2019)
by Peter Bell Cherry Chimes Blogger
Eddie had a dream is a fan's unofficial recollection of the story of a player from the lower leagues who became a fans' favourite at AFC Bournemouth.

The book spans 25 years of AFC Bournemouth football history (1994-2019)
It's interactive with hyperlinks to the Cherry Chimes blog (2013-19).
Learn why Eddie Howe is admired by so many Bournemouth fans
With his playing career cut short, Eddie Howe took to coaching with a passion.

Thrust into management at 31, AFC Bournemouth's future hung on Howe's belief of whether he could find a way to help the players win. Fighting embargoes and points deductions, Howe would lead the club to League Two safety.

Now Eddie Howe could start to change the siege mentality into a more progressive football club. The Cherries were on their way, until Burnley came calling!

The opportunity to go back to AFC Bournemouth in 2012 was unexpected, but for personal reasons it was the right time to return home. Now AFC Bournemouth were flying. They had a new Russian owner and a management duo who won promotion to the Championship and then the Premier League.

Players that were more used to playing in League One now played the likes of Chelsea and Manchester United. Eddie Howe was proving that British managers and players could be successful in the Premier League.

The author is donating 15 per cent of his earnings for this book to Julia's House Children's Hospice.

Kindle Price: $9.99

LEARN MORE NOW!

Category: Sports & Outdoors