AUTHOR SPOTLIGHT
MARK P. SADLER
They say that only mad dogs and Englishmen go out in the mid-day sun. This describes author, Mark P. Sadler, perfectly. A transplanted Brit, Sadler finds himself in the heat of Tucson's Sonoran desert and often uses this unique area as a back drop for his novels.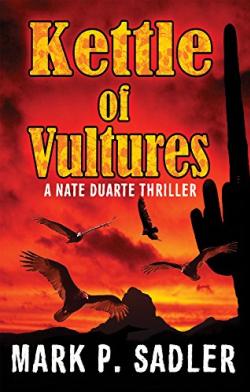 Amazon.com: Kettle of Vultures eBook: Mark P. Sadler: Kindle Store"
by Mark P. Sadler
DRAGNET MEETS SILENCE OF THE LAMBS ON THE U. S. -MEXICO BORDER NEAR TUCSON, ARIZONA. Nate Duarte's life is full of dark, diabolical twists. As a young boy he witnessed the murder of his mother at the hands of a Mexican gangster. Nate knows this same violent desperado also murdered his father, a border patrol agent. Putting on hold his dream of studying law, Nate becomes a police officer to help bring his parents' murderer to justice. In this introductory novel in the Border Noir Trilogy readers are introduced to Nate as a 31-year-old detective, working the Sex Crimes Division of the Tucson Police Department. Dealing daily with the most horrendous abuse and defilement mankind can handout, Nate must do battle with a fiendish killer, a psychopath who wants to become the worst ghoul humanity has ever seen. Nate also keeps a running chronicle on his personal nemesis, the man who killed his parents, now head of the Sonoran cartel. Time is running out. Five women have been kidnapped and tortured. Can Nate find a way to stop the brutality before they all die? Is one of the missing women Nate's half-sister? His mettle and valor meet up with assaults, physical and psychological, as he leads the charge to destroy this evil once and for all in a battle to survive the worst odds possible. "Fascinating tale set in Arizona, this fast-paced mystery is rife with intrigue and suspense. A gritty and relevant roller coaster of a ride. Author Sadler's fresh voice is sure to enthrall. "—Deborah J Ledford, Award-Winning author of Snare, Staccato, Crescendo & Causing Chaos. "Vengeance is a slow burn for Detective Nate Duarte. In the first of author Mark Sadler's Border Noir Series, Duarte uncovers an uncanny link between the sudden disappearance of young women in the Tucson area and the murder of his parents he witnessed as a child. A tale of two lives, so psychologically thrilling and action packed that readers will be turning the pages, unsure of the outcome to the very end. "—Nancy Cole Silverman, author of Shadow of Doubt and Beyond a Doubt. "Sadler slices open the dark underbelly of Arizona, and draws you into a visceral world of seedy criminals and murderous predators with unnerving ease. . . . "—Peter Mark May, author of AZ: Anno Zombie. "Like a sidewinder, the tension rattles and you're never sure when it's going to strike. "—Hart Johnson, Author of a Shot in the Light . "A gritty crime thriller with authentic Southwest flair. Captivating, suspenseful, brilliant writing with accurate detail. You'll forget you're reading. "—Bradley Nickell, Lifelong Cop and Author of Repeat Offender; Sin City's Most Prolific Criminal and the Cop Who Caught Him. "An dangerous desert comes alive under Sadler's descriptive hand in this riveting page-turner; A fast-paced story where international politics, deviant behavior, and one seriously deranged killer meet in a hot, hostile desert; the wicked underbelly of a desert city unfolds in breathless fashion in this taut thriller. "—Laurie Stevens, author of the award winning Gabriel McRay psychological suspense series. "A sex crimes cop obsessed with the drug cartel enforcer who murdered his parents. A prostitute with no idea why Detective-Inspector Nathaniel Duarte is her guardian angel. A serial killer who murders his female victims in the most fiendish way imaginable. A nun who holds the key to unlocking the secrets of Duarte's past. These are only a few of the spicy ingredients Sadler has stirred into Kettle of Vulture, his new novel set in what the author describes as the sordid underbelly of Tucson, Arizona. Sadler takes the reader on a wild ride that ranges from the Mexican border to the creepy desert community of Three Points. Duarte must put aside his investigation of his own murky origins to solve a missing women case and finds himself in a race to prevent more hideous deaths at the hands of the most fiendish killer since Hannibal Lecter. "—Paul Kemprecos, author of Grey Lady, Aristotl
Kindle Price: $0.99
LEARN MORE NOW!
Category: Mystery, Thriller & Suspense