AUTHOR SPOTLIGHT
J.M. ADELE
J.M. Adele grew up in a little seaside town in Western Australia, the youngest of five children. After making her way across the Top End she now resides in the East, in Brisbane. Who knows where the future will take her? With three, rev-head, older brothers she ended up playing with cars rather than dolls despite big sister's coaxing to the feminine side. Her love of reading was fostered at a young age by her bookaholic father. She did not inherit his love of test cricket. Or cars. But she did inherit his inability to walk past a bookstore. A total science geek, and endlessly curious about how stuff works, she gave up the dream of being an astronomer (ugh—maths) and ended up becoming a nurse. So many characters, so many stories; she blames nursing for igniting the urge to write. She gave up her nursing career to devote more time to raising her three boys until the characters in her head became unbearably persistent to have their stories told. With a crafty, bibliophile father and a business-minded mother she melded the two influences and finally succumbed, publishing her first book, Remembering Home. Apparently she was a closet romantic. Who knew?! She still can't walk past a book store without going in. Shoes, shmoos. Contact her. Seriously, she loves to hear from readers.
Remembering Home: A Novella
by J.M. Adele
How do you forget your first love? The girl that haunts your dreams. The one that no other woman could ever live up to. The one you left behind. . . It takes a tragedy to wake Aiden Thomas from his stupor, prompting him to return to his home town. Nothing could've prepared him for what he finds when he gets there. His life, as he knows it, is about to change. It was time to stop hiding behind his lens. Angel Murphy had her heart ripped away when she was a teenager. She survived the toughest times of her life, with the help of her family. Fifteen years later, after another cruel blow, she is again scrambling to adjust. Angel doesn't know how much more she can take, when the man she never thought she'd see again returns. Can she trust him to stay this time, especially when he discovers the secrets he left behind? *Recommended for readers 18 due to mature content. *
Kindle Price: $0.99
LEARN MORE NOW!
Category: Romance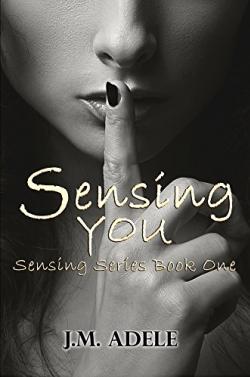 Sensing you (Sensing Series Book 1)
by J.M. Adele
Gift or Curse? Ronnie has inherited her granny's gift of a sixth sense. But for her it's not a gift, it's a curse. She's unable to trust anybody with her secret, unable to form any meaningful relationships beyond what she has with the woman who shares her abilities. She's learned to hide behind a solid wall of bitchiness. When the ghost of a persistent young woman infiltrates Ronnie's world, she can no longer avoid the visions plaguing her. Reluctantly, she starts to open up to friendship, happiness and love, discovering that fate has more surprises in store for her future than she imagined. Including, a man who might actually be able to understand the pain she harbours under her tough exterior. But as she learns more about her gift she finds herself in situations she isn't prepared for. Now she's in grave danger. Will she be able to stop a madman before she becomes his next target? *WARNING: this book is intended for mature audiences due to adult themes and situations. Some scenes may be confronting for some readers. If you're at risk of triggering, please consider whether you should read this. *
Kindle Price: $2.99
LEARN MORE NOW!
Category: Romance; Mystery, Thriller & Suspense