AUTHOR SPOTLIGHT
HELEN (WININGER) LIVNAT
I was born into a bourgeois family in Bukovina, a region of Romania, in a town named Gura Humorului. The first daughter of a young couple, and the first grandchild in the family. Endless happiness! Endless happiness? The sounds of war were approaching our area, and happiness turned into panic and fear of the unknown. In October 1941, when I was just sixteen months old, a proclamation ordered all the Jews of the town, healthy, sick, young and old, to gather at the train station and bring with them everything their hands could carry. We were exiled to an area called Transnistria, where death awaited about sixty percent of those arriving. A slow death from starvation, cold, hunger and diseases. The only goal we had there was to survive. After three years of suffering and losing our beloved, we returned to Romania and all we wanted was to get out of the country that did not remember its Jews, and their contribution to the economy, growth, and culture. One evening, ten years ago, I suddenly realized I had to write down all the tragic events that happened, and all the unbelievable miracles that took place and saved me and my family's life. I had to write it down before our generation of survivors would disappear, and things would be forgotten. In large letters I started writing my first book, "WAITING FOR A MIRACLE"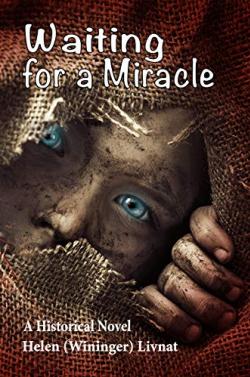 Waiting for a Miracle: Historical Novel
by Helen (Wininger) Livnat
This is the true story about the journey of a Jewish family through Eastern Europe. It begins somewhere in Russia in the mid-19th century, and takes the reader into the events during the two world wars, and their ways of existence during the holocaust. The simple and touching stories are presented from the perspective of a sensitive young boy, fascinated by his surroundings. In a moment of anxiety and fear, the boy is torn from his family, and the journey of his life begins. The story describes four generations that represent the history of Eastern European Jews. The author creates a unique attraction between the book and the reader, by her fluent and vivid language. Historical truths are intertwined with fascinating stories about the power of a violin, and the miracles that occurred during the attempt to survive under impossible conditions in a period where sanity was lost. "People will forget what I said, people will forget what I did, people will never forget what I made them feel. "
Kindle Price: $3.99
LEARN MORE NOW!
Category: Religion & Spirituality; Literature & Fiction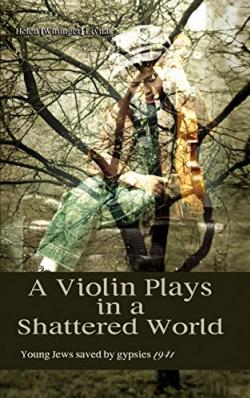 A Violin Plays in a Shattered World: Young Jews saved by gypsies 1941 - Historical Novel
by Helen (Wininger) Livnat
It actually happened. Hard to believe that two teenagers and a special child, torn from their comfortable and insulated Jewish community in wartime Romania, were taken in by Gypsies camped in the forest. How could they find their places among the flamboyant people, whose lifestyle and ways of confronting the hostile surrounding society were so different from that of the Jews? This heart stirring story fleshes out this occurrence, presenting the dilemmas, enlightenments, emotional attachments, and mutual understandings experienced by the child protagonists. *** Helen Livnat's book is based on extensive research about the Gypsy way of life. Exposing the fascinating gypsy's world of beliefs, values, music and joy. It is a sweeping drama in opposite worlds and how common fate binds them together. Professor (Emeritus) Nissan Rubin Bar Ilan University, Israel.
Kindle Price: $3.99
LEARN MORE NOW!
Category: Religion & Spirituality; Literature & Fiction