All prices in this email were checked by BookLemur.com as of 03/23/2019; however,

prices may change without notice so be sure to verify books are still free or at deal prices prior to purchase.

These deals are from Amazon, not BookLemur. Publishers and authors set prices--we bring what we find to your attention. Deal prices may not be the same outside the United States. We want your feedback, so please reply to this email if you have any comments or suggestions you want to share.

100 Vacation Days a Year
by Barak Paztal and Robert Shemin

In truth, all of us were and remain children, always looking forward impatiently to summer vacation.... However, somewhere along the course of our lives, we gave up. We gave up on our dreams. I proclaim -- live again! Turn your life into a vacation! Barak Paz-Tal understood that the rat race of long hours of work a day, a week and a month was not really meant for him. The price was too high for him and his family and the pressure exacted a heavy price.

Original Price:

$3.99


Sale Price: FREE

Deal Ends: 3/26/2019
Category: Self-Help
The Rockstar Remedy
by Dr. Gabrielle Francis

From the woman known to some of the most famous bands in the world as the "Rock n' Roll Doctor" comes a holistic prescription to achieving health and balance--even when you don't live like a saint. As a holistic practitioner and therapeutic masseuse to the music industry's elite, Gabrielle Francis has helped famous rockers to repair, recover, and refuel from the demanding schedules and occasional overindulgences that come along with the rock star lifestyle.

Great Price: $1.99
A Marriage in Dog Years: A Memoir
by Nancy Balbirer

When Nancy Balbirer learns her beloved eleven-year-old beagle has kidney failure, she's devastated. She and her husband had gotten Ira as a puppy--a wedding gift to each other, and their first foray into "parenthood." Now, her dog is terminal, her marriage is on life support, and Nancy is desperate to save them both (whether they want it or not). In a single year, she loses her two best friends, but Nancy's life is about to take yet another unexpected turn.

Original Price:

$4.99


Sale Price: $0.99

Category: Biographies & Memoirs; Best Sellers; Crafts, Hobbies & Home
The Frame-Up
by Meghan Scott Molin

By day she writes comic books. By night, she lives them. MG Martin lives and breathes geek culture. She even works as a writer for the comic book company she idolized as a kid. But despite her love of hooded vigilantes, MG prefers her comics stay on the page. But when someone in LA starts recreating crime scenes from her favorite comic book, MG is the LAPD's best--and only--lead. She recognizes the golden arrow left at the scene as the calling card of her favorite comic book hero.

Original Price:

$3.99


Sale Price: $1.99

Category: Mystery, Thriller & Suspense; Comics & Graphic Novels; Humor & Entertainment; Best Sellers
The Stranger She Loved
by Shanna Hogan

In 2007, Dr. Martin MacNeill--a doctor, lawyer, and Mormon bishop--discovered his wife of 30 years dead in the bathtub of their Pleasant Grove, Utah home, her face bearing the scars of a facelift he persuaded her to undergo just a week prior. At first the death of 50-year-old Michele MacNeill, a former beauty queen and mother of eight, appeared natural. But days after the funeral when Dr. MacNeill moved his much younger mistress into the family home, his children grew suspicious.

Great Price: $2.99

Category: Biographies & Memoirs; Nonfiction
One True Mate 9: Shifter's Dream
by Lisa Ladew

Troy was a man trapped in a wolf's body for three decades, until a nap changed his life forever. Now that he's a wolf trapped in a man's body, he's not going back. Food? Good. Partying? Better. Women? Best. With one brother missing, one brother overwhelmed by parenting twin engels, and only distracted Mac to keep him straight, Troy is fulfilling his every desire, never sleeping, rarely working, refusing to reel it in. Until he sees her.

Original Price:

$2.99


Sale Price: $0.99

Deal Ends: 3/25/2019
Category: Romance; Best Sellers
Second Look
by Kathi Daley

Five years ago award winning actor Rhett Crawford threw a Halloween party. On the third night of the party the groundskeeper found the body of one of the guests bludgeoned and left in the toolshed. It was eventually determined that the victim's date had most likely killed the woman before fleeing the scene of the crime. Five days ago, the oceanfront estate had been scheduled for demolition. A human skeleton was found in a hidden room off the wine cellar...

Original Price:

$3.99


Sale Price: $0.99

Deal Ends: 3/26/2019
Category: Mystery, Thriller & Suspense
Can't Fight This Feeling
by Miranda Liasson

Widowed psychologist Maggie McShae is ready to find someone who won't make her heart beat fast, her knees grow weak, or her body go hot and cold at the same time. No one she can really love, because love brings too much pain. Drew Poulos, son of a billionaire, is hiding out in Mirror Lake, working at his brothers' brandy company. He inspires those very feelings Maggie's determined to avoid.

Original Price:

$3.99


Sale Price: $0.99

Deal Ends: 3/27/2019
Category: Romance
Welcome to the Garden Club
by Jenny B. Tilbury

Opening day of the Fleur-de-Lis Ladies Garden Club of the French Quarter gives fifty lucky women a chance to express their inner southern divas. As longtime member Stephanie Lewis steps into a luxurious condo to begin a new season of the garden club, she has no idea of the drama and life changes that await her. Stephanie, a community volunteer and socialite, is convinced that proper civilization ends at the New Orleans city limits.

Original Price:

$3.99


Sale Price: FREE

Category: Literature & Fiction
Doc: A Memoir
by Dwight Gooden

As a shy nineteen-year-old, Dwight Gooden swept into New York, lifting a team of crazy characters to World Series greatness and giving a beleaguered city a reason to believe. Then he threw it all away. Now, with fresh and sober eyes, the Mets' beloved Dr. K shares the intimate details of his life and career, revealing all the extraordinary highs and lows: The hidden traumas in his close-knit Tampa family. The thrill and pressure of being a young baseball phenom in New York.

Original Price:

$5.99


Sale Price: $0.99

Category: Biographies & Memoirs; Sports & Outdoors
Catwoman: Soulstealer (DC Icons Series)
by Sarah J. Maas

When the Bat's away, the Cat will play. It's time to see how many lives this cat really has. Two years after escaping Gotham City's slums, Selina Kyle returns as the mysterious and wealthy Holly Vanderhees. She quickly discovers that with Batman off on a vital mission, Gotham City looks ripe for the taking. Meanwhile, Luke Fox wants to prove that as Batwing he has what it takes to help people. He targets a new thief on the prowl who has teamed up with Poison Ivy and Harley Quinn.

Great Price: $1.99

Category: Teen & Young Adult; Comics & Graphic Novels
Evil Under the Sun
by Agatha Christie

The classic Evil Under the Sun, one of the most famous of Agatha Christie's Poirot investigations, has the fastidious sleuth on the trail of the killer of a sun-bronzed beauty whose death brings some rather shocking secrets into the light. The beautiful bronzed body of Arlena Stuart lay face down on the beach. But strangely, there was no sun and Arlena was not sunbathing...she had been strangled. Ever since Arlena's arrival the air had been thick with sexual tension.

Great Price: $1.99

Category: Mystery, Thriller & Suspense; Best Sellers; Literature & Fiction
AHA: The God Moment That Changes Everything
by Kyle Idleman

We've all had "aha!" moments in our lives, times when a sudden revelation surprises us with insight. According to pastor and bestselling author Kyle Idleman, we can experience this same kind of "aha!" in our spiritual lives. With everyday examples and trademark testimonies, Idleman draws on Scripture to reveal how three key elements can draw us closer to God and change our lives for good. Awakening to the reality of our true spiritual condition, we see ourselves and our need for a Savior with renewed honesty.

Great Price: $0.99

Category: Religion & Spirituality
Starstruck
by Brenda Hiatt

The middle of nowhere just got a lot more interesting! Nerdy astronomy geek Marsha, M to her few friends, has never been anybody special. Orphaned as an infant and reluctantly raised by an overly-strict "aunt," she's not even sure who she is. M's dream of someday escaping tiny Jewel, Indiana and making her mark in the world seems impossibly distant until hot new quarterback Rigel inexplicably befriends her.

Original Price:

$3.99


Sale Price: FREE

Category: Romance; Teen & Young Adult; Science Fiction & Fantasy
Herbs and Crystals DIY: Use Plant Medicine and Crystal Energy to Heal the Mind and Body
by Ally Sands

Ally Sands--master herbalist and founder of Aquarian Soul--shares her expertise on healing herbal properties, as well as how to effectively use over twenty different crystals, including amethyst, opal and rose quartz. When these powerhouses are used together, they form a potent combination to relax, energize and help you live a happier and healthier life.

Great Price: $2.99

Category: Health, Fitness & Dieting; Nonfiction; Self-Help; Reference
West Winds of Wyoming
by Caroline Fyffe

When widower Charlie Rose shows up looking for work at the struggling Cotton Ranch, no one knows he's secretly trying to outrun trouble--and he intends to keep it that way. He wants to start over fresh in the small town of Logan Meadows, where his blind daughter can grow up safe...and where danger can't find him. Feisty and independent, Nell Page is determined to protect the Cotton Ranch, despite threats from the bank...and the mysterious stranger lurking on the ranch's borders.

Original Price:

$4.99


Sale Price: $1.99

Category: Romance; Literature & Fiction
Orangutangled
by Sudipta Bardhan-Quallen

Two orangutans jump for some yummy, juicy mangoes and the next thing they know, Thump! Bump! Crash!--they fall into a gooey, gummy mess and start rolling through the jungle, completely oranguTANGLED! Soon they are passing by a nosy boar, and then he's quickly swept up, not to mention the frog, the yak...and even a tiger. How will they ever get untangled?

Original Price:

$3.99


Sale Price: $0.99

Category: Children's eBooks
Carved in Sand: When Memory Fades in Mid-Life
by Cathryn Jakobson Ramin

Why can't you remember where you put your keys? Or the title of the movie you saw last week? Anyone older than forty knows that forgetfulness can be unnerving, frustrating, and sometimes terrifying. With compassion and humor, acclaimed journalist Cathryn Jakobson Ramin explores the factors that determine how well or poorly one's brain will age. She takes readers along on her lively journey--consulting with experts in the fields of sleep, stress, traumatic brain injury, hormones, genetics, and dementia...

Great Price: $1.99

Category: Health, Fitness & Dieting; Nonfiction
Guardian (Classified K-9 Unit)
by Terri Reed

When a fellow FBI agent is kidnapped and a protected witness vanishes, Leo Gallagher will stop at nothing to find them both. So when he discovers a link between the case and a single mother in Wyoming, Leo and his trusty K-9 partner rush to question Alicia Duncan. Could she be the key to locating the missing persons? Not if a killer has anything to say about it. Someone is determined to keep Alicia from talking, so Leo and his chocolate Lab must keep her and her little boy safe on their family ranch.

Great Price: $1.99

Category: Romance; Literature & Fiction
Malevolent
by Jana DeLeon

Everyone wondered about Shaye Archer's past. Including Shaye. Shaye Archer's life effectively began the night police found her in an alley, beaten and abused and with no memory of the previous fifteen years, not even her name. Nine years later, she's a licensed private investigator, with a single goal--to get answers for her clients when there aren't supposed to be any. And maybe someday, answers for herself.

Original Price:

$5.99


Sale Price: FREE

Category: Mystery, Thriller & Suspense; Best Sellers
Toward the Sunrise
by Elizabeth Camden

Julia Broeder is only six months shy of graduating from the Women's Medical College of Pennsylvania when one small decision spirals out of control and results in her expulsion. Hoping to travel the world as a missionary doctor, her only choice is to return back home... or throw herself upon the mercy of Ashton Carlyle. Formal and straight-laced, Ashton is not pleased to see an expelled Julia arrive at his Manhattan office.

Great Price: FREE

Category: Romance; Literature & Fiction; History
Following His Heart (Ocean City Boardwalk)
by Donna Fasano

Sara Carson is a 30-something widow with a busy life. Two fun-loving best friends, a caring mom who needs her, and a thriving sweet shop. What more could a woman want? But when the ancient plumbing in her shop springs a leak and a gorgeous, dark-eyed stranger rushes to her rescue, hilarity unfolds--and Sara quickly sees exactly what she's been missing. Something most peculiar draws Landon Richards to Ocean City, Maryland--and to the lovely Sara.

Great Price: $1.99

Category: Romance
The People Next Door
by Roisin Meaney

Behind the brightly coloured doors of Miller's Avenue live people with very complicated lives... When Yvonne in number 7 joins an online dating website, she's looking for something more than friendship but after a series of disastrous encounters, decides to shut down her account. Is she shutting out her only chance of finding love? While next door Dan, still reeling from his wife's desertion, signs up for a cookery course. As his lemon souffle rises, so does his interest in someone close to home...

Great Price: $0.99

Category: Romance; Literature & Fiction
more great deals for you.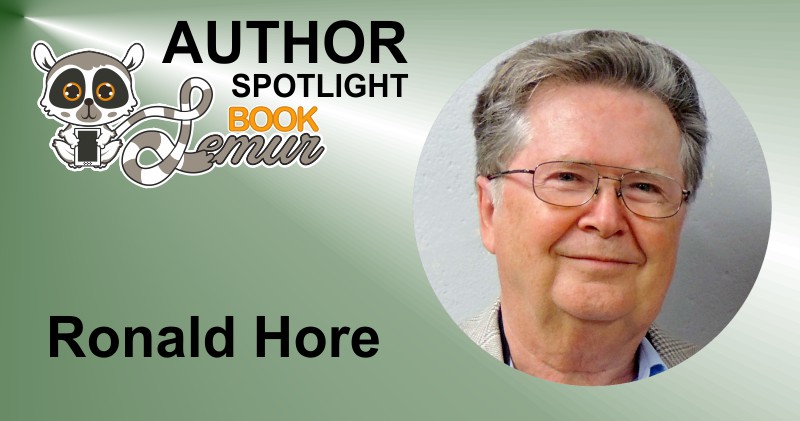 Ronald Hore: Writing as R.J.Hore, Ron won first prize for a Canadian Authors Association contest for a ghostly love story but his preference is for longer works including a pair of medieval-style high fantasy trilogies and the Housetrap Chronicles fantasy detective series.
Categories: Science Fiction & Fantasy